Christine Checkley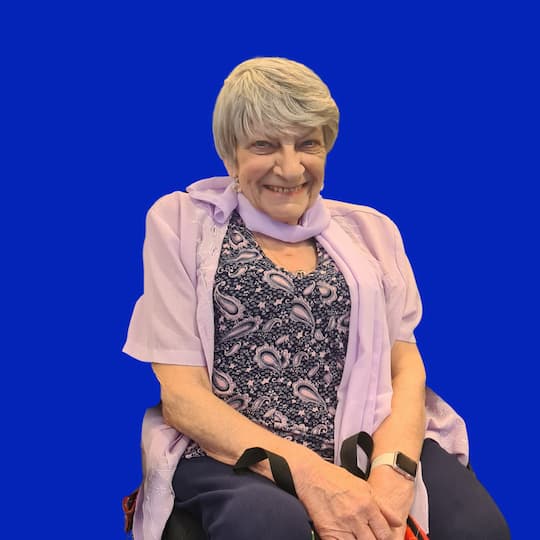 I have been a wheelchair user from the age of eleven, due to a rare condition called Transverse Myelitis.
I started volunteering after I left Queen Elizabeth Training College. I and friends joined a sports club for people with disabilities. I became
well known in Southwark for fundraising events for the club. One of the people I had dealings with nominated me for The Disabled Personality
of the Year. This led to the Director of Social Services asking me if I would become a co-opted councillor representing people with disabilities. I
had a very interesting seven years with them. At this time I married and had my son.
We then moved to Milton Keynes and I joined the Council of Disabled People. I worked with the Access Group for a while, then was asked if I would be a member of the steering group to set up The Centre for Integrated Living. We finally got the MK CIL up and running. We had one paid
member of staff and a handful of volunteers. I was privileged to be the first Chair of the Board of MK CIL. I am back at the MK CIL after a break as a Trustee. They say from little Acorns Large Oaks grow. MK CIL now has many paid and unpaid members of Staff plus a Trustee Board. They are all devoted to making the MK CIL the strong happy welcoming place that it is.
Edith Dunse
I acquired my disability in 1986 when a chair moved as I went to sit on it and I ended up with compression fractures of the lower spine which has led to many other problems. I use sticks and a wheelchair when I need to go out. I have been married to Keith for 40 years and have two "grown-up" children. I have been a volunteer and Trustee at MK CIL for over 20 years and I am enjoying all the daily challenges that the role involves.
No two days are the same. I originally came to Milton Keynes from Harrow, Middlesex in 1976 with a 14-day-old baby and lived in Stantonbury.
The volunteering work that I do at MK CIL is to assist people with their DLA, PIP and AA forms, I really enjoy my meetings with our
service users by helping, talking and listening about their disabilities. I am basically a nosy person so enjoy asking questions and then researching the answer for them.
I don't know what I would be like today if I hadn't had my accident but I feel that it's the best thing that could have happened. I have a job that
I enjoy good friends and colleagues. I am doing things that I never thought possible or have the courage to do.
Val Williamson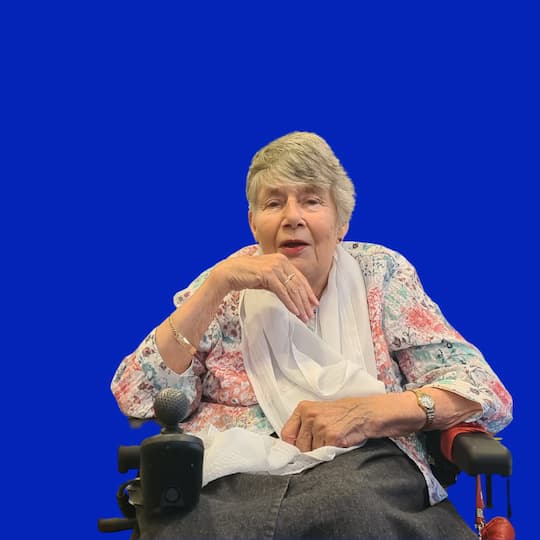 Val describes her day at Buckingham Palace:
Wothaya Esther Johnston, (a trustee of CIL) and I set off from Newport Pagnell in a wheelchair-accessible taxi at just before noon. Sadly, Edith Dunse and her husband Keith had tested positive for Covid so were unable to travel. I trust they will have the chance to go sometime in the future. The journey was good until we got into London then we were met with road closures and road works. Finally, we were admitted to the grounds of the Palace and directed to our designated parking spot. It was warm and sunny. After identity checks, we were shown the way to the garden area avoiding all the gravel areas. For an hour we were entertained by two military bands and the Yeomen of the Guard before the National Anthem announced the arrival of Prince William the Duke of Cambridge, Prince Edward, Earl of Wessex and his wife Sophie, the Countess of Wessex. Great excitement just to catch a glimpse of them. The weather was perfect. How lucky we were as the event on 11th May was wet and people got soaked! We walked around the beautiful gardens and met up with four other people from MK. Gamiel and his partner Julie from Diversity Market Place, Kurshida Mirza and her daughter from the MK Community Foundation. Time went quickly and it was time to leave. As we left the garden I got stuck in the gravel, the embarrassment, it took 4 guardsmen to get me out. They were surprised at how heavy it was. The more I tried the deeper I became embedded (I am still learning how to control my powerchair!) A final look as we got back in the taxi and returned home, arriving at 20.00 tired but happy. A day to remember!! Valerie Williamson BEM, Trustee MK CIL
Ernie Boddington
I entered the world of disability back in the 1990s before I actually became disabled myself when I was involved in a major London Engineering project in which we included the Disability Discrimination Act (DDA) as part of the design even though then still in draft. I saw the need for the requirements of the DDA then as much as I do now. Disabled people should be able to access anywhere without any more involvement than anybody else.
I then became mobility impaired in 2007 just after retiring from work and after improving enough to be able to get out of bed and then out of the house, thanks mainly to my now late wife, I began looking for some way of remaining involved in life. Continuing coaching football and running were no longer options and I eventually found CIL who I joined in 2012.
I joined with the intent of continuing my involvement in accessibility but for reasons I won't go into here nothing really happened. However, I remained within CIL because of the help and involvement it gave to the disabled community.
Then in 2018 after a series of events, the role of the chair became available and the next I knew I was doing it. (I know who to blame for that and I will get my own back one day)
So now the aim is to take it forward and to develop the fields that it has been traditionally strong in and to encompass new areas that will ease and expand the world of the disabled, a challenge I look forward to.
Other trustees:
Annette Holcroft
Paul Alexander
Do you have what it takes to be a trustee? Find out more about volunteering.